Let's Fish
How To Play: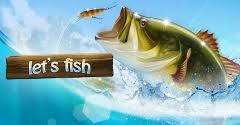 Let's Fish game
Are you ready for the craziest, best and most creative fishing game ever? If you are then you are at right place because this is the right game for you! In the beginning you need to perform quick registration to access the game, you can register immediately, or you can log in using your Facebook account, the choice is yours. This fishing game is a totally free online game, you can play whenever you want, does not require any installation and it's completely safe.
If you enter every day in the game, you will receive a variety of gifts that can facilitate everyday play. This online fishing game enables you to compete with players from all around the world, which means that you can watch your rank and rank of other players, you can participate in tournaments and championships and thus won a lot of prizes, money and in time you can rise in the rank list. Before you are great opportunities in this game, you can catch fish all over the world to more than 100 destinations, seas, lakes, rivers, oceans … every fish you catch you can sell it and thereby earn a certain amount of money with which after you can improve in shop and buy the better part of fishing equipment to help you play and catch fish faster, better and more effectively and to catch the much larger and heavier fish.
If you capture larger and heavier fish you have the opportunity to win various prizes and a larger amount of money when you sell the fish. All fishing equipment hold the backpack, the backpack always carry with you and it is all the equipment you own in it, everything you want to change you can do by opening your backpack. The map is there for you so that you choose the location where you want to catch fish. You can play 3 different tournaments, Float tournament, Spin fishing tournament and sea fishing tournament.Every 30 minutes you will get a special offer.
Have fun in this awesome fishing game!
Instructions:
Use mouse to catch a fish and play..
When the float disappears underwater, click "Pull"
To catch the fish you have to pull the float into
the circle marked with an arrow.
Other Games Like Let's Fish